Staff Page
The staff page provides an opportunity to introduce your people to the community. The page helps make your funeral home more personal. Some funeral homes opt to include their staff on the same page as other information, and some opt for a dedicated staff page. The Mann and Greenwell Funeral Home website, shown to the right, chose the first approach. On their website the personís biography is displayed above the portraits when a user clicks on a photo of the staff member. The Tandy-Eckler-Riley Funeral Home website has a dedicated page devoted to their staff.
We invite you to visit both the websites. Click on the Mann and Greenwell part of the image to the right to visit their site; click on the Tandy-Eckler-Riley part of the image to reach theirs.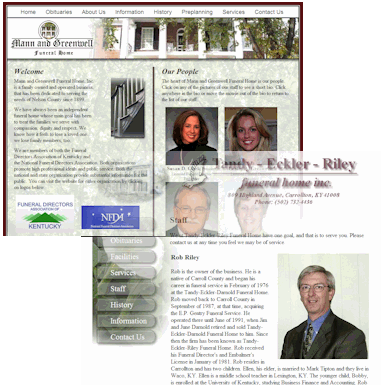 Please click in the image to visit the Mann and Greenwell or the Tandy-Eckler-Riley website.