Local Information
Many funeral home websites choose to have a page with local information. The pages may contain information about lodging and florists. Some contain listings of churches and other information. Madison Funeral Home of Marshall, North Carolina includes lodging and florists, and information on various regional and national organizations and suppliers.
We invite you to click on the image to the right and visit the Madison Funeral Home website.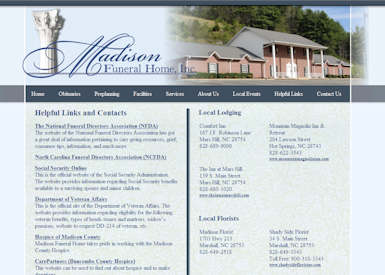 Please click on the Madison Funeral Home image to visit their website.
What our clients say
We love our website and the ease of posting obituaries! Plus, having the Memorial DVDs show up along with the Obituaries has driven a lot of traffic to our site. My families can't wait to see the Memorial DVDs and the staff members say they feel the same. Each show is different and seems to be "just right". They keep getting better! Thanks Loving Honors!
B. Spurlin, Spurlin Funeral Home, KY
www.spurlinfuneralhome.com