Custom Pages
Sometimes a funeral home requires a custom page driven by database entries. We do the necessary programming for custom pages in-house, so we usually can develop custom pages quickly. Do you need a page to track your involvement in community events, show a calendar, or display merchandise? Ask us, we usually can accommodate you.
Thacker Memorial shown to the right displays monument selections and Grove Hill Cemetery provides a calendar of burials. The Grove Hill Cemetery website has many other custom features. Please visit the Thacker Memorial and the Grove Hill Cemetery websites.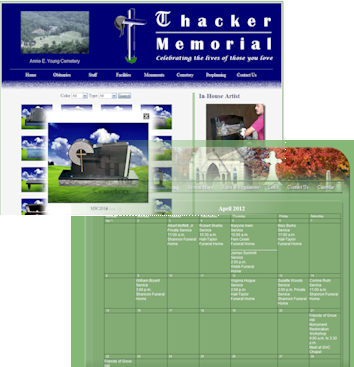 Please click within the Thacker Memorial image or the Grove Hill Cemetery image to visit their respective website.