Loving Video Keepsakes™ Case and Label Artwork
Packaging for a DVD must be beautiful and have a professional appearance. The product is a reflection of the funeral home and the attention given to detail. Artwork, theme and colors should compliment each other and be a complete "presentation". We have hundreds of photos for cover art and take special care to provide a total package, which will proudly represent your business.
The artwork for the DVD disk and DVD case is provided and you may print them. Or, we will produce and ship the complete package to you. We print the artwork directly onto the disk and have nice jewel case covers, providing a professional appearance and preventing the problems associated with "stick-on" DVD labels.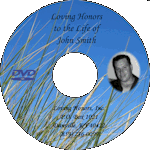 Country/Farmer Theme Artwork Example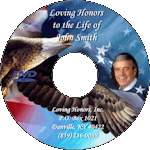 Military Theme Artwork Example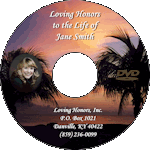 Romantic/Beach Theme Artwork Example